Leighton Angling Society

Leighton Angling Society caters for pleasure and match anglers alike. We run both a 10 match Summer League and a 6 match Winter League series, but pleasure anglers can always find a swim to fish on over 110 pegs, plus 25 more on Sheinton Brook. As a member you can also contact the secretary for Day Tickets for up to 2 guests/member/day.
Leighton Angling Society's stretch of the River Severn covers about 4.75 miles of banks in total. All of the North bank from Cressage Bridge, downstream to the straight just above Buildwas, plus the South bank from Sheinton Brook downstream to the straight above Buildwas is included. There are several access points and Car Parks. The pegs available provide excellent fishing for barbel that run well into double figures; chub up to 5 Lbs plus; good roach up to 2 Lbs, large perch up to 4 Lbs and a large head of dace. There are also Pike to over 20 Lbs too. Salmon are taken regularly by a small, but enthusiastic number of members.
Leighton Angling Society - News
Sunday, 21 November 2010 - Winter League 2nd Round
The second round of the Winter League was fished on the river on a cold, dank 21 November. Ten of the 15 anglers in the league turned out on a river which was carrying about a metre of extra water. This, coupled with an east wind, made for hard going, with four of the field blanking. Winner was Ken Arnold from peg 18 with a barbel for 3 Lbs dead, caught on a ledgered worm. Second, from next door peg 16, was Tony Randall with 13 Ozs, made up of about 80 small dace, roach and minnows taken on a whip close to the bank, using a pinkie on the hook under a 1 gram rig. It was really good to see these "silvers" again. Third equal were Gordon Bradley and Gary Stinton who each had 1½ Ozs from pegs 13 and 1 respectively. So, after two of the six rounds fished, jointly in the lead are Dave Upton and Ken Arnold on 6 penalty points, but Dave has more weight. Third is Tony Randall with 8 penalty points. Fourth equal are Keith Williams and Bernie Jones on 10 points, but again, Keith is ahead on weight. The next round, on 5 December, will be fished on Bayliss Pools (if the water is not frozen over or it will be back on the river). It is hoped that the larger carp pool will be bookable, to enable the large head of bream there to figure in the result. Watch this website for an update!
Sunday, 14 November 2010 - LAS vs. DARLACH
The LAS vs. DARLACH challenge match was fished on 14 November, but had to be switched to Bayliss Pools because the river was very high and coloured. Steve Senior led the five man team, that included Steve Everton as only four DARLACH anglers made the trip down from the Wirral. The LAS team were Dave Upton, Reg Ford, Nick Bastock and Bernie Jones. The other members of the DARLACH team were Terry Thompson, Gary Stinton and Eric Rimmer. There had been an overnight frost and those anglers pegged on the shallow side of the pool found bites hard to come by in the first 2 hours of the match, whereas those on the deeper side caught roach and odd rudd from the off. But then the bream started to feed for Bernie Jones three hours in and he had seven of them for a top weight of 16 Lbs 4 Ozs. Reg Ford managed to catch a couple of good perch (amongst the crayfish!) for 4 Lbs 13 Ozs and second place and Dave Upton had one good bream and some bits for 3 Lbs 11 Ozs and third place. The team event went LAS's way with a total of 28 Lbs 3 Ozs to DARLACH's 6 Lbs 12 Ozs. Maybe next year lads?
Sunday, 24 October 2010 - Graham Jones wins 2010 Summer League
This year's Summer League was one of the closest finishes for many years. The winner of this final Wines & Spirits match was Graham Jones with 11 Lbs 9 Ozs from peg 6, which gave him the 10 points needed to take the league with a total of 55 points. Nick Bastock unfortunately blanked from peg 83, so remained on 45 points for runner-up spot and Dave Upton, who also blanked from peg 102, finished third. There was a very hard frost overnight and the bright sunshine, combined with low and clear river conditions, made this a very hard match. Graham Jones fished the waggler and maggot for most of the match and had 4 chub for his winning weight. Ken Arnold used stick float and maggot for a 10 Lbs 9 Ozs weight and 2nd place, from peg 76, which again consisted of 4 chub. Third was the only man to make contact with a barbel, Keith Williams, from fancied peg 95. Keith (once he had found peg 95, as he had not been to this part of the river before!) had to use "stand-by" tackle, as his was with mate Tony Poolton, in Cressage Meadow, who had taken the wrong holdall from Keith's car! Despite this his 5 Lbs weight was good enough for a useful third place. Well done Graham. We'll all have to try harder next year!
Sunday, 10 October 2010 - Reg Ford with his 2nd place catch of 19 Lbs 6 Ozs!

Sunday 10 October 2010 saw the penultimate match of the Summer league fished on a beautiful autumnal day. The river had been up to its bank tops the previous week, but had run off to a level about three feet above normal. The eventual winner was Dave Upton from peg 83 with 20 Lbs 13 Ozs. Reg (I like peg 103) Ford was second with 19 Lbs 6 Ozs, which consisted of two good barbel and a chub about 3 Lbs and third place went to Graham Jones with 16 Lbs 4 Ozs from peg 17.

For the full photo of Reg (1.6Mb) please click here.
Sunday, 20 June 2010 - Alan Norton with 25 Lbs 4 Ozs of Grass Carp!

As far as I am aware this is the first Grass Carp ever caught in the River Severn. Alan said "At first my rod just twitched a little and I thought it would be a barbel just having a first nudge of my pellet bait, but then the rod went round steadily, so I struck. After a couple of nods, the line then went solid and I thought it had run me into a snag; but then, very slowly, I started to win a little line and I thought 'Wow! This is a big 'un' and I took it very steadily. After a battle of about 20 minutes I managed to get the fish to the surface and saw it was huge! My one concern was that it might not fit into my landing net, but fortunately the angler below me came to my aid and with the fish close to the bank he managed to put the net under it as it once more tried to dive to the bottom - straight into the net head first! It was very difficult to lift out of the water and I am grateful to Steve Senior who rushed over with his camera to take this shot."

For the full photo (1.3Mb) please click here.
Thursday, 17 June 2010 - Carl's great start to the season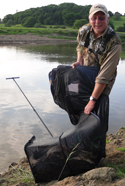 Carl Pavey got up very early on 16 June to start the new season on our river. He was fishing soon after 5 a.m. and managed this fantastic bag of 24 barbel to 8 Lbs, plus 1 chub for a haul well in excess of the magic "Ton". Carl's only disappointment was when "a torpedo" took his pellet bait and stripped off 25 yards of line without so much as a nod, then the hook pulled free! Must have been one of those hard fighting carp, methinks Carl - or was it one of the many double-figure barbel now frequenting our water? Anyway, a great start to the new season. Well done!

To download the original photo (1.5Mb) please click here.
Sunday, 30 May 2010 - LAS vs. Weston-Under-Lizard
Fished on a bright, but very windy, day the "home" team's knowledge of the venue just edged out the LAS anglers in this first leg of this 2-leg match. The return leg will be fished on Cressage Meadow at a date to be fixed when the WUL guys Summer Sunday matches finish in October. Pole and pellet proved to be the winning method, which found mostly carp to 5 Lbs. There were a lot of roach to be had on the maggot, but averaged only 3-4 Ozs. However, we now know that if everyone had caught a couple of pounds of them first, then had gone for the carp, we could have won the team event. We all learn….!

Total weights:
WUL 52 Lbs 7 Ozs
LAS 48 Lbs 7 Ozs
The top seven places were:
1st J Rushton (WUL) 20 Lbs 9 Ozs
2nd R Mullinder (WUL) 15 Lbs 1Ozs
3rd B Smith (LAS) 12 Lbs 14 Ozs
4th G Stinton (LAS) 7 Lbs 12 Ozs
5th B C Jones (LAS) 7 Lbs 7 Ozs
6th P Nolan (LAS) 5 Lbs 4 Ozs
7th D Upton (LAS) 3 Lbs 9 Ozs